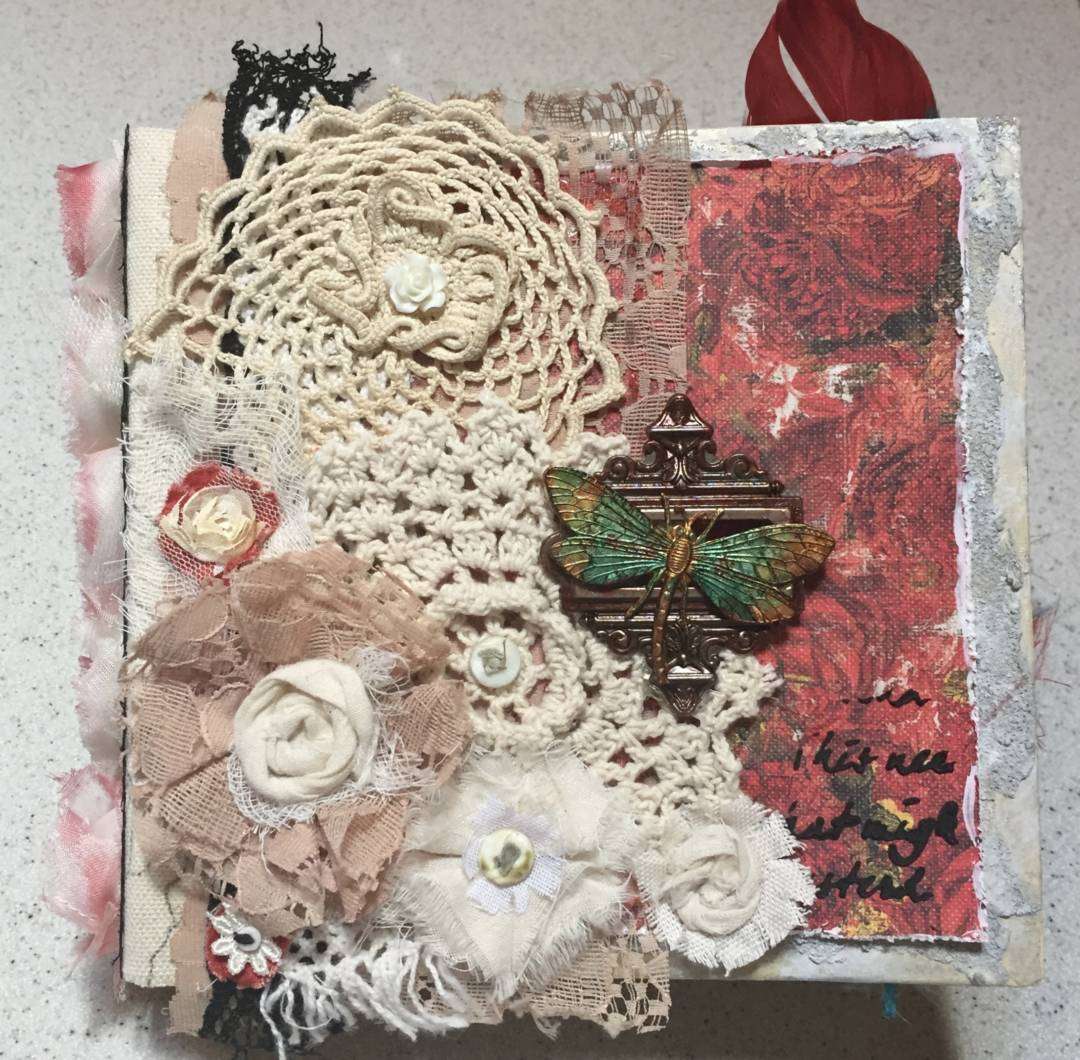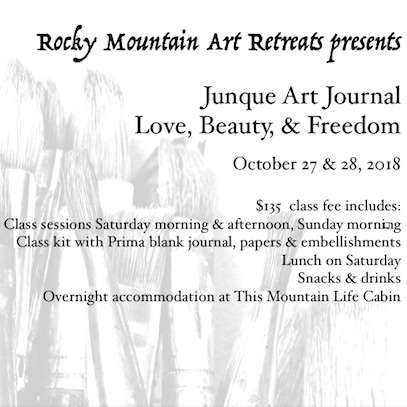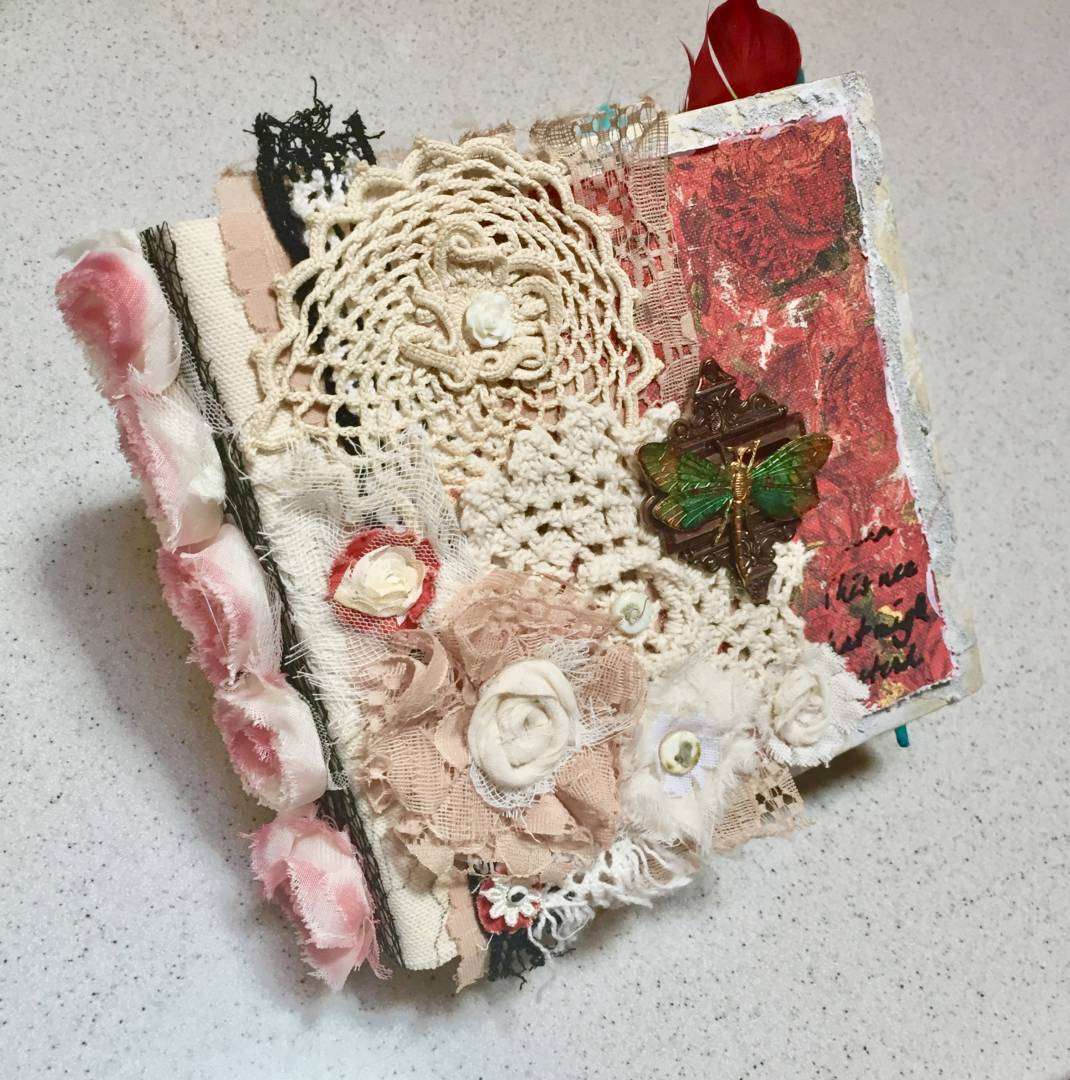 ♦ The Project:  In this class you will prepare a Prima blank art journal and complete or near complete 5 internal pages plus the cover.  You will learn techniques using, DecoArt Sand Texture, DecoArt Mixed Media Paints, preparing your own washi tape, layering pages using papers & fabrics, and creating your own faux flowers.  
♦ The Provided Supplies:  You will receive a Prima blank art journal and a Prima embellishment kit to which you will add Creative Impressions embellishments, vintage trims, tags, die cuts, photographs and lettering, and learn ideas about themes and messaging for creating your own art journal pages.  Also provided in your class supplies is a 4 oz. jar of gel medium, 1/2 oz. bottle of Glossy Accents, a Dina Wakely paintbrush set, as well as your class set up of craft sheets, blending tools & foams, spray water bottles, and inky binkie.
♦ The Plan:  Class kit and time is allotted Saturday morning, Saturday afternoon and Sunday morning for completing 5 internal page spreads.  Two additional page spreads will be prepared but unembellished to allow you to continue your story on your own!
Class size is limited to 8 students.
This is an ambitious project.  Students should expect to have fun and enjoy each other, but those who stay on task during class time will have the best chance of completing their project to a satisfying degree.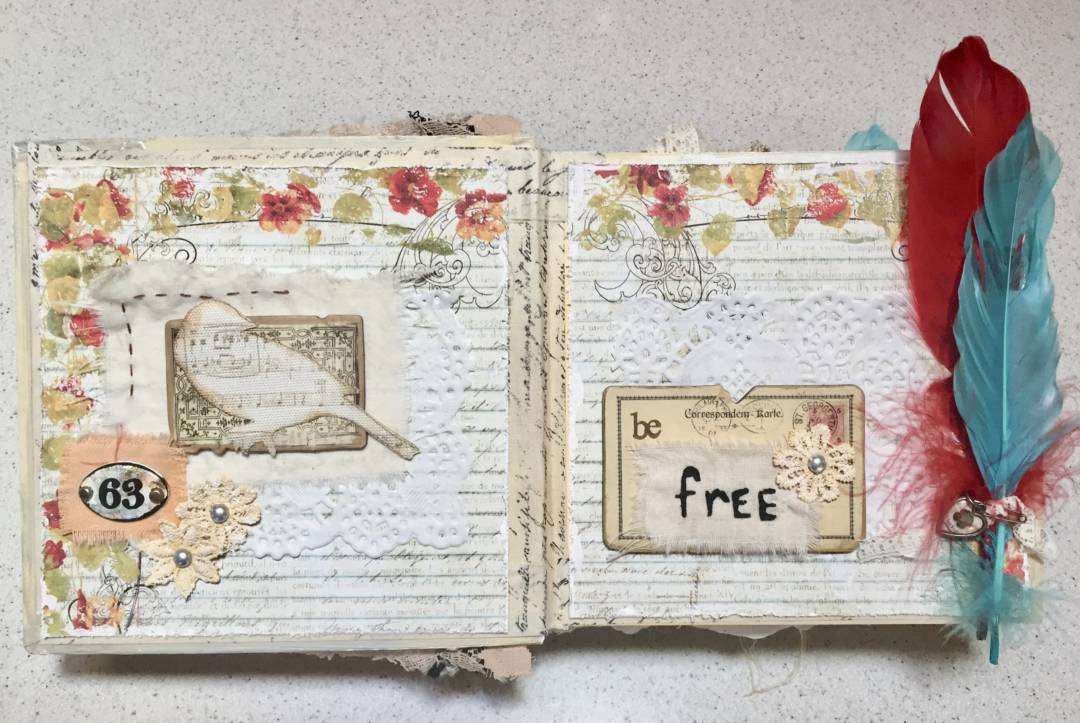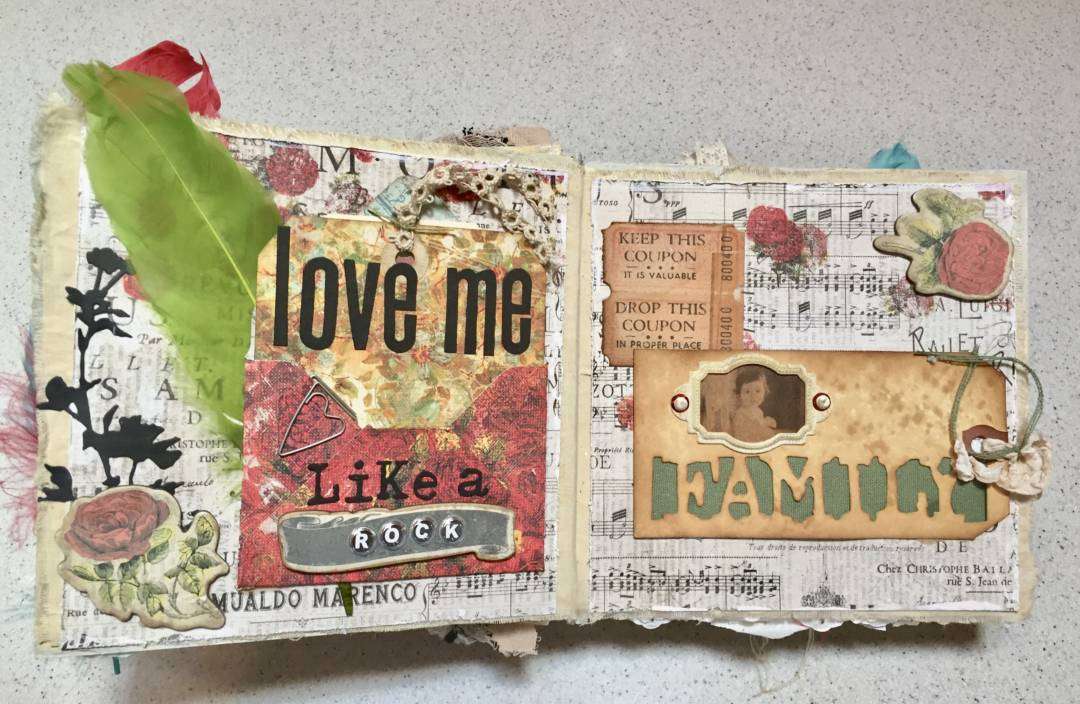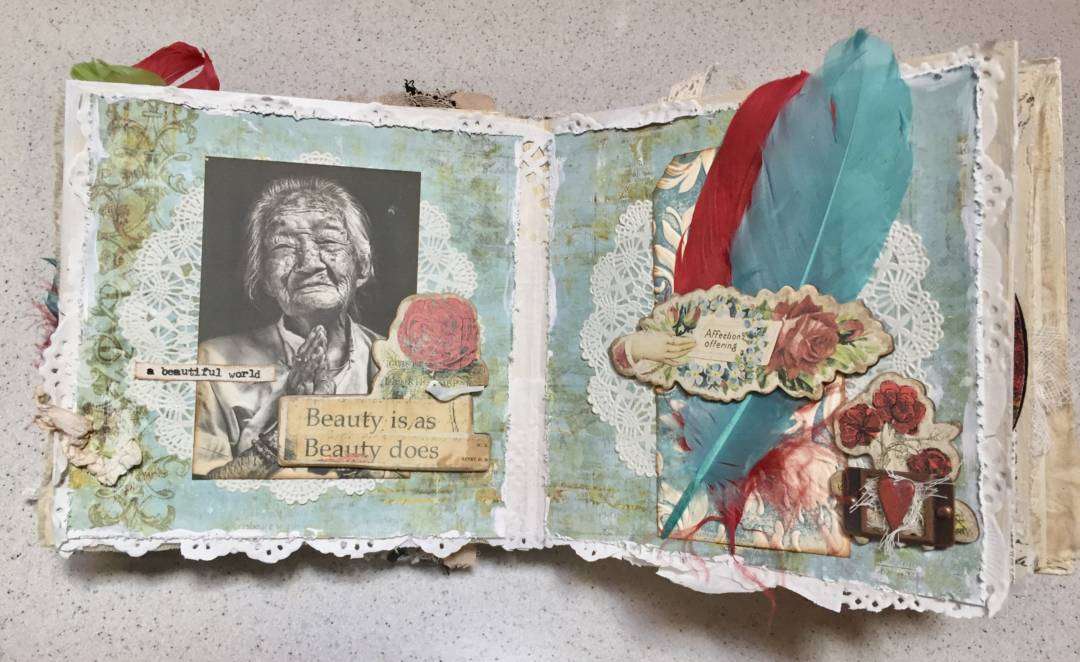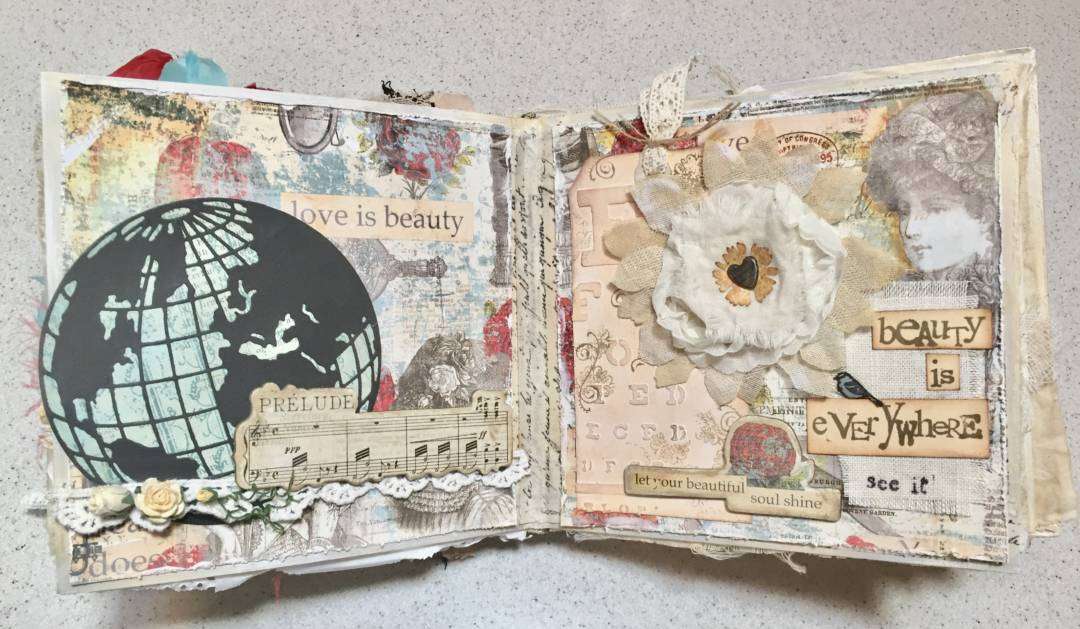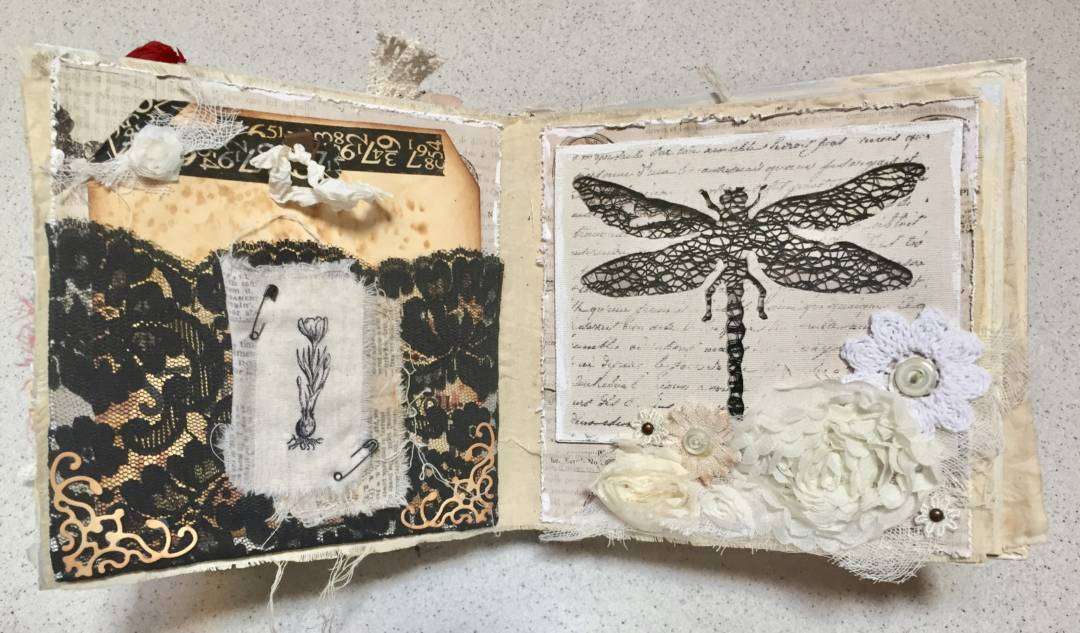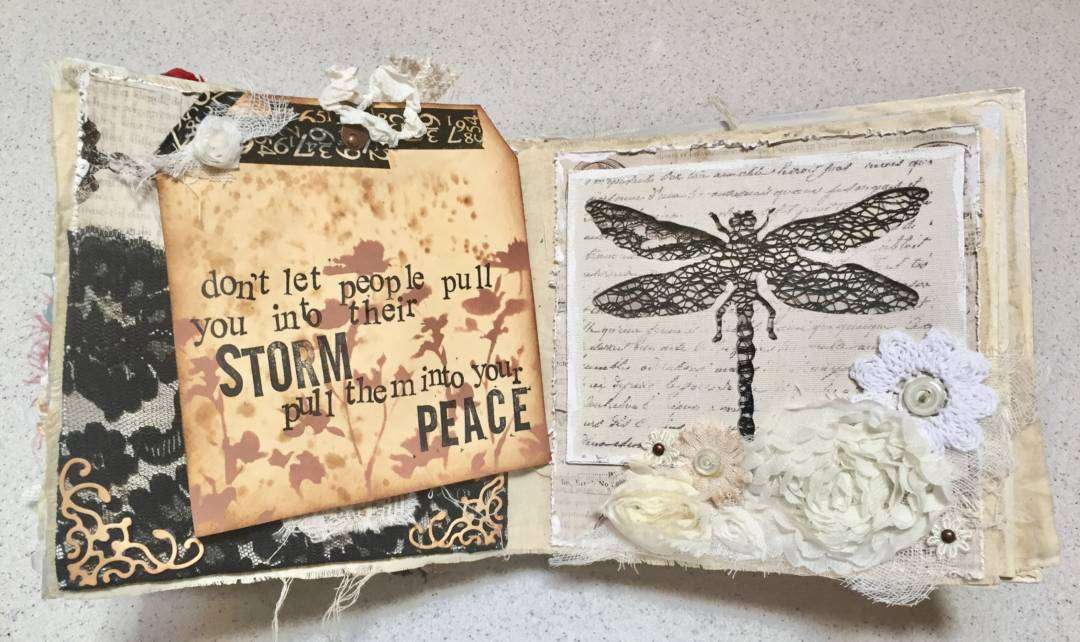 Required Class Supplies
Please bring with you the following supplies:
Ruler, pencil, Score tape or redliner tape, double stick adhesive or tape runner, black ink pad, Vintage Photo or similar Distress Ink pad, roll of 1″ masking tape, gesso, paper distresser (if you don't have one, you can purchase one in class for $5), tweezers, bone folder, awl or paper piercer, and aqua brush (optional).
Please bring only supplies requested.  Our space is limited and there isn't room for carts and large bags of supplies you aren't likely to need.
Overnight Accommodations
at This Mountain Life
Your class fee includes a night at This Mountain Life cabins.  Redemption Cabin and Exploration Cabin are right next door to each other in a quaint neighborhood just a couple of blocks from downtown Estes Park.  Redemption Cabin sleeps 3 guests in a queen bed and a twin bed.  Exploration Cabin sleeps 5 guests in a queen bed, a lower bunk twin bed, and a queen memory foam sleeper sofa.
Sleeping arrangements will be assigned on a first come, first serve basis.
Sign me up for Junque Art Journal!
You can sign up for Junque Art Journal Retreat by completing the form below and submitting payment of $135, through either PayPal to chergrigs@yahoo.com or mailing a check for $135 to Cheryl Grigsby, 1950 Cherokee Drive, Estes Park CO, 80517.
Please include in your message your name, your phone number and your email address.  You will be contacted to successfully complete your reservation.
Please sign me up for Junque Art Journal!
"Living in the Rocky Mountains of Colorado greatly influences me as a mixed media artist. For me, the Rockies are much more than granite and elk. The birds, the wildflowers, the smells and sounds cooperate and harmonize into something that soothes and settles the soul. Bring together the hard edges and the soft flutters, the dark shadows and the sparkling light, the strength of the bull elk and the delicacy of the lupine and you'll find the beautiful contrasts that move me."
Cheryl Grigsby