Owners, Caretakers and Hosts
The Grigsbys completely restored the old cabin compound from 2011 to 2020. Now they care for This Mountain Life and their cabins.  Rick and Cheryl serve as hosts and local guides for This Mountain Life Guests.
Rick, a renaissance man and outdoor enthusiast, fell to the spell of the Rockies while a young professional then living in Dallas.  He was privileged to work and travel in many great places.  Yet, after accepting the existence of God and growing with each mountain getaway, the allure of the Estes Region made all other dreams fade in comparison.  Everything changed regarding his passions and walking.
Cheryl is a beautiful one-man-army.  If you need something done right, take it up with her. She has had many successes over the years as a legal secretary, paralegal, Bible teacher, administrative assistant, wife, mother, and shopkeeper. Most recently, she helped Rick finish all the cabin restorations.  Just prior, she created and operated a paper arts store, Rocky Mountain Memories, in the Park Theater Building downtown Estes Park. Cheryl still teaches, creates and blogs mixed media art. For Cheryl, the Rockies are much more than flyfishing and climbing granite rocks.  The birds, the wildflowers, and the wildlife, and sights and sounds of snow fed rivers, all harmonize with God's creation in rejuvenating her inner soul.
Rick, now a wood whisper and experienced pathfinder, and Cheryl, now an accomplished artist, teacher, wife, mother and friend, live full time in Estes Park, Colorado. They have 3 adult children who live close by in Colorado.
Renting the riverside retreats to family, friends, and out of town guests helps the Grigsbys recoup their cabin restoration expenses and carry on the vision to live by faith in God.  Rick & Cheryl love all their family, friends and out of town guests.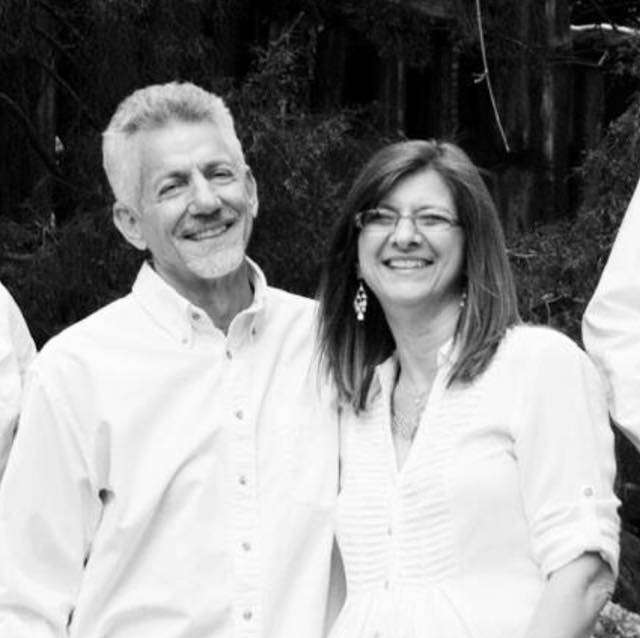 Rick & Cheryl Grigsby
This Mountain Life
Rocky Mountain Memories, Inc.
Estes Park, CO